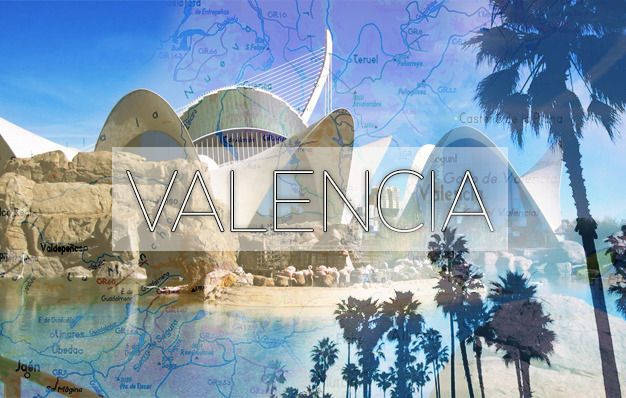 It's near! Just a few more days and I'll be in Valencia! It's always a good thing to have a look on the internet and see what you really want to visit once you get to your destination. For today, I will show you some places I would really want to visit when I'm in Valencia.
THE BEACH 
I've missed the beach for 2 years. It is finally time to give it a visit again and this time in the lovely Valencia. I would definitely want to visit the beach 2 or 3x when we are there. Enjoying the hot weather, hearing the sound of the waves and some delicious ice cream!
bron
L'UMBRACLE AT NIGHT  
There is this beautiful place where you can enjoy loud music and cocktails. But the thing that makes me want to visit it is the open air event! It's a very chique looking place and we are excited to give it a look! I looked up for some video's online and it looked like a lot of fun.
bron
L'HEMISFÈRIC
L'hemisferic which is also being called as "They Eye". The building looks like a giant eye and do you know what it is? An IMAX 3D Cinema! You're able to watch movies while laying down. This is definitely something I would love to experience.
bron
L'OCEANOGRAFIC 
An Aquarium! I've been to the one in Antwerp before but I'm very curious for this one. The L'oceanografic is the biggest Aquarium from Europe. 40.000 animals including a show with dolphins. I've never seen a dolphin show before.
bron
AQUA MULTIESPACIO
A mall that has 4 floors! Virgie and I looked at each other and knew immediately that we were going to give it a visit. I love malls and I'm very curious on how this one is going to look! I've heard that KIKO cosmetics is going to be there. It already sounds like a lot of fun. 
bron
BONAIRE CENTRA
YES! More shopping! Besides the AQUA MULTIESPACIO, we also want to visit the Bonaire Centra. Another mall that also includes some shops like Primark! We also have a Primark in the Netherlands but I would really love to experience it in a different country. I hope that we can also find a Sephora!
bron
So these are the things I would like to do so far in Valencia. I will definitely take some pictures and keep you updated.
Have you been to Valencia before?